Hello everyone! I'd like to introduce one of my favorite lip tints from Etude House – Dear Darling Water Tint. Just like its name, this lip tint feels just like putting a drop of water on your lips. The texture is very watery and absorbs really fast on the lips. And the sheer color is superb and long lasting.
'A moist-fruity water tint with the feeling of refreshing fruits bursting'
I chose to wear this lip tint in Cherry Ade (which is available in three shades) because I'm more of a reddish kind of a girl, and I was surprised by how long the color lasted without getting wiped off easily.
For example, I was drinking a lot of coffee and tea to help me get through work and reviewing fun beauty products, and I couldn't believe the solid red color was still hanging in there until late in the night!
Even the bottle design is perfect for my taste. It comes in a glass bottle with a plastic cover, and the printing of 'water tint' with the heart in the middle is cuteness overload and adds to the Etude-esque sentiment. But most of all, I am especially in love with the bottle size of Dear Darling Water Tint! It fits right inside my palm and I can easily throw it in my daily makeup pouch with everything else that I need to carry around. With this vivid lip tint, I can proudly say that I don't ever have to worry about having dreary lips!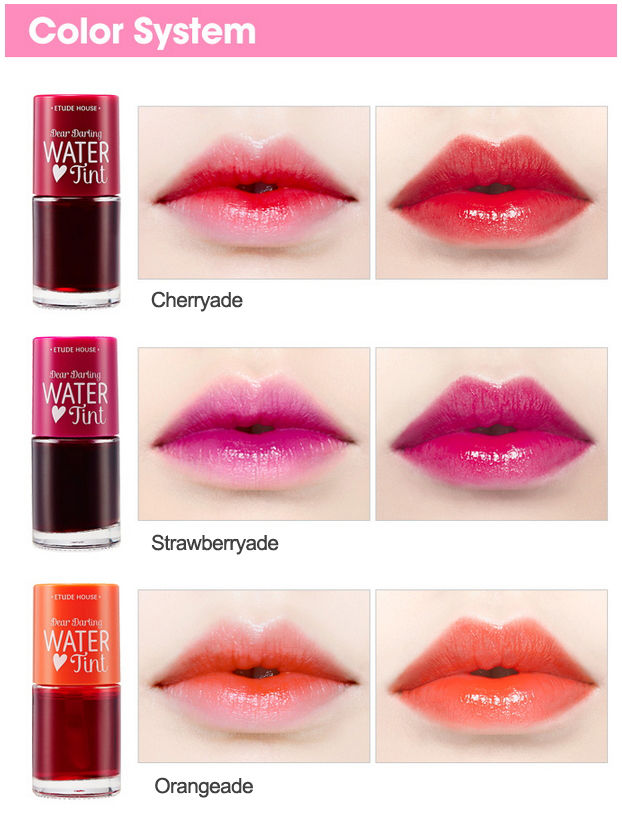 A beauty tip I must share with you when using this water tint is to dab the water tint on the center of your lips and you can create a natural gradation after applying the cushion compact foundation slightly over your lips. But just be careful not to put too much tint on your lips or you will end up smearing it all over the lip line. And that might make your lips look really messy, which you probably don't want!
After using this lip tint a few times, Dear Darling Water Tint is suitable for anyone looking for a sheer, moisturizing and natural lip tint color. I'd totally recommend this to people with light skin tones and lip colors, because it will help them create a natural look but with watery lips.

In South Korea, this lip tint is really popular with Korean students wanting the 'no makeup look' for school since they are not allowed to wear any sort of makeup at school. It's even a hot trend to use as young office workers who have graduated from a school that still want to achieve that bare, youthful look but may tone down the amount of lip tint used to create a natural gradation.
Buy on the official Etude House Global Website
---
Hope this helps with your guide to choosing the right lip tint product! Have you used Etude House's Dear Darling Water Tint before? I'd love to hear your review, thoughts & experiences in the comments below!
This review is based on Jihee Park's editor review. Her review is based on real usage & review with her skin type as listed.

Skin Type: Dry
Skin Color: Light (No.21)
Skin Undertone: Natural beige, warm undertone
Editor's Review – Etude House Dear Darling Water Tint
The Good
Smooth
Deep color
Travel-friendly
The Bad
Too watery
Absorbs too fast
Can get messy from smearing