2016 S/S Hera Seoul Fashion Week was held from March 21 to March 26th at Dongdaemun Design Plaza, and ended in a great success. Even to this day, the excitement brought to you by Seoul Fashion Week still continues as what was featured is now trending thanks to the celebrities who strutted their stylish looks with their stunning combinations of clothes and accessories.
2016 Fashion Trends Following Hera Fashion Week
Jung Ryeo Won
정려원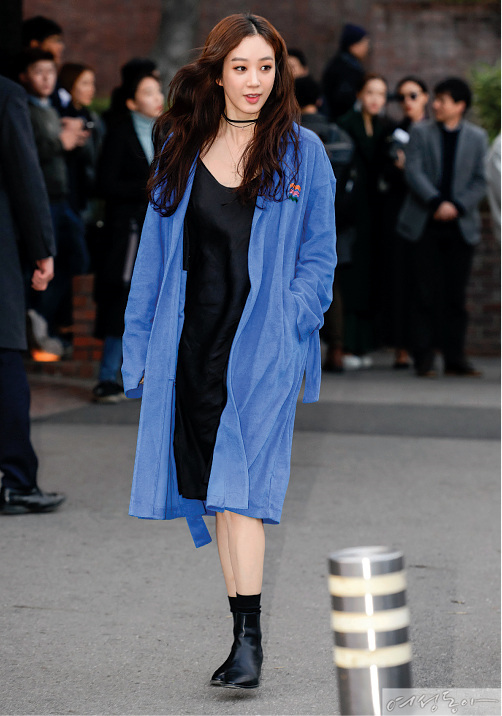 Here is the theme for this season: slip-ons and pajamas! Jung Ryeo Won rocks the stage by wearing a large bath towel over her slip dress. Her sensual choker adds a bit of sexiness to the punk look.
Lee Sung Kyung
이성경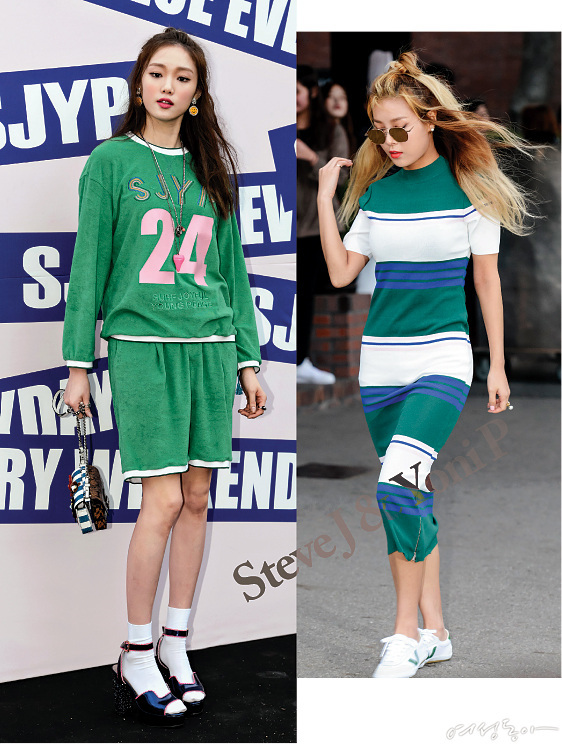 (Lee Sung Kyung on left, Yubin on right)
Lee Sung Kyung proudly wears an athleisure trend unlike her previous elegant ladylike image. Her long, dangling necklace with a mini-bag and high platform sandals mixed match the outfit.  Sweat suits are no longer in style!
Yubin
유빈
Yubin wears a bold, striped knit dress revealing her body line, but decides to dress down with sneakers. Even her messy half-bun hair and boeing sunglasses are sophisticated!
Kim Jae Kyung
김재경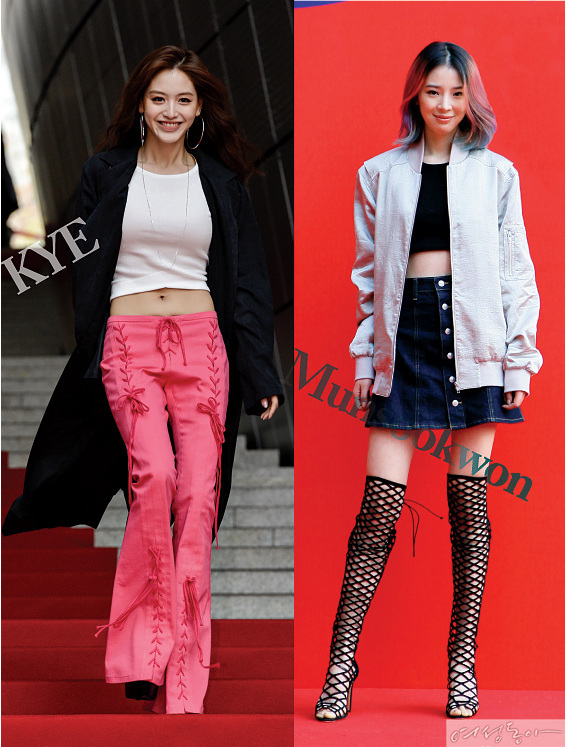 (Kim Jae Kyung on left, Irene on right)
Surrounded by many celebrities at the KAI Fashion Show, Kim Jae Kyung outshines everyone in her pink bell bottom pants! Every time she walks, her oversized trench coat flares out and creates a dramatic goddess look.
Irene
아이린
Fashionista Irene wears a unique crop top, denim skirt, and a mesh material high top open toe boots. Her metallic silver stadium jumper and colorful hair makes her look like someone from the future.
Yoo Ah In 유아인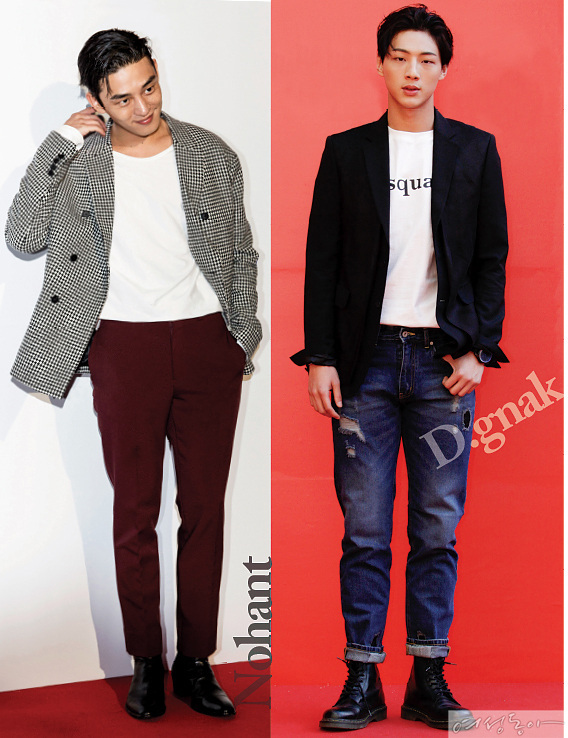 (Yoo Ah In on left, Ji Soo on right)
Yoo Ah In is a good friend of Designer Noah Nahm, and he made a visit to Dongdaemun Design Plaza (DDP) to cheer on the successful launch of Nohant Collection. As someone who has previously been the Creative Director of Nohant, he is wearing a white t-shirt, burgundy colored pants and double-breast checkered jacket. He shows off a very stylish outfit, hairstyle and strong, attractive eyes.  
Ji Soo
지수
Another fashionista is born revealing his attractive body wearing a white letter print t-shirt, faded denim jeans, tailored jacket, and walker boots. This is the perfect 'boyfriend look' that all girls want.  
Choi Yeo Jin
최여진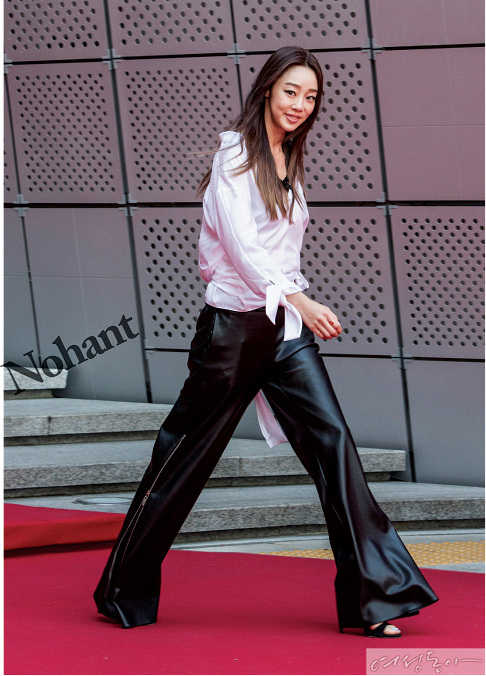 If you are not confident about trying bold, dramatic colors on clothes, start with black & white. Choi Yeo Jin portrays a cool, sophisticated appearance by wearing a white t-shirt with black wide-leg leather pants.
Stephanie Lee
스테파니 리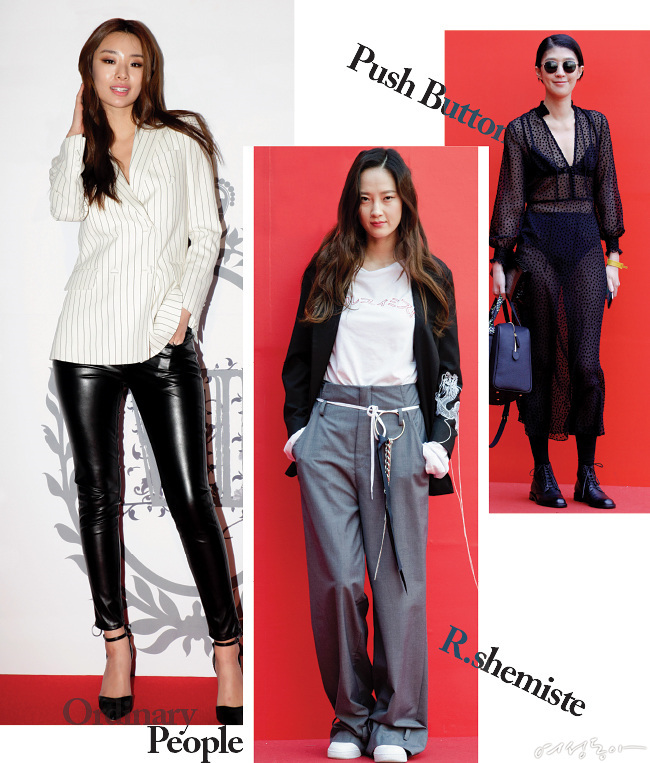 (Stephanie Lee on left, Hye Park on middle, Hong Jin Kyung on right)
Stephanie Lee, a model turned actress, is the blue chip icon of this season's 'Hera Seoul Fashion Week'. She participated in the 'Ordinary People Show' not as a model but as a celebrity. Here she wears a striped double-breast jacket, skinny leather pants, and strappy heels.
Hye Park
혜박
Model Hye Park wears a high waisted wide-leg pants with hooped dangling chain belt. The dragon embroidery engraved like a tattoo on the black jacket sleeve also leaves behind a strong, bold impression.
Hong Jin Kyung
홍진경
As soon as she appeared on stage, the show hall flamed with excitement. Everyone's eyes were placed on her bra top and briefs that were seen through her transparent black gown. The unity of the color black made her portray a sophisticated look.
---
Credits: Daum
Planning: An Eun Mi Reporter 안미은 기자
Photography: Hong Tae Sik, Kim Do Youn, Lee Sang Yoon 홍태식 김도균 이상윤
Picture Credit: Hera Seoul Fashion Week
Design: Choi Jung Mi 최정미