There is a growing number of tourists, especially from China, visiting Seoul. All the vibrant attractions in the city has led to another k-beauty cosmetic store opening at the most popular site Paju Outlet Mall.
DN Company's duty-free cosmetics shop opens next to Paju Premium Outlet Mall.
In the fierce competition of large companies around the duty-free shops in downtown Seoul, post-market duty-free shops are gaining more popularity. There are over 3,000 post-market duty-free shops around the world offering values of goods that include all VAT and tax, which also receives tax refunds at the airport. The competition between large department stores such as Shilla, Lotte and Shinsegae are different from competing post-market duty-free shops with their tax exclusions that does not apply to big enterprises.
The market is also estimated to be 2 trillion to 3 trillion won per year, which is less than the pre duty-free shops with about 10 trillion won. However, Chinese tourists now are providing positive feedback about their experience in post-market duty-free shops in Korea than ever before. In the case of duty-free shops, their largest sales and profits come from groups of Chinese tourists. The new and changing duty-free shops in Korea are opening more stores and enterprises that promote duty-free shops in Myeongdong, Dongdaemun, etc. The most largest company is called LIS that controls about 6 post-market duty-free shops selling cosmetics, ginseng, and other healthy products typically located in Seoul and Jeju Island. LIS hopes to open 5 more post-market duty-free shops by next year's first quarter focusing on areas such as Seoul, Jeju Island, and Busan to increase the markets' sales by 250 billion won.
The distribution industry's stakeholders state that 'Korea's post-market duty-free shops are still small compared to the ones in Japan' and 'it will only grow if there are consistent numbers of Chinese tourists in the country'.
Cosmetics department inside view
DN Company's duty-free cosmetics shop opens next to Paju Premium Outlet Mall
On January 11, 2016, the duty-free shops opened, specializing in popular cosmetic brands, in Korea near Paju Premium Outlet Mall and Heyri Town. As many Chinese tourists have much interests for Korean cosmetics and visit Paju area more frequently, k-beauty becomes one of the most popular cosmetics of choice by many foreigners. Executive Director Byun Young Hyun of DN Company (Korean aesthetic company) shares some of the globalization and success stories in domestic duty-free shops.
Is there a specific reason for opening a Duty-Free Shop in Heyri Town?
Heyri Town has an influx of Chinese tourists because it's a well known tourist spot in Korea. There are many categories for choosing and buying goods here, but there aren't as many cosmetics stores available. As a result, our company conducted a thorough review on the demand and marketability for cosmetics in this region and finally launched it. We plan to include many popular brands in our cosmetics department store, and still require small businesses selling their Korean cosmetics (although it is not known to users online, it acquired a lot of patents) to promote the country's goods to create a win-win effect. The whole idea is to enable Chinese tourists to buy Korean cosmetics in one location and minimize their travel times.
How many tourists have been visiting Korea recently? Is there a specific strategy to attract more foreigners in the future?
We can't estimate all the tourists visiting our department store, because they come in large groups. But one thing for sure is that they are stopping by at the Premium Outlet Mall, Provence, Tongil Dong San, and Sightseeing Tunnels, which are all connected to our Duty-Free Shops. This makes purchasing and promoting goods easier and more efficient. If we have an average of 2 buses running each day, there's probably about 100 Chinese tourists coming in. Of course, there's a lot more people visiting during our peak seasons, but we always have at least 3,000 visitors each month. In the future, we hope to attract more foreigners by offering more shopping areas and dining places.
Dr. Namgung step Essence Mask Pack' is the most popular item being sold in stores.
Interpreter explaining a recent popular facial mask pack
What kinds of products do you mostly handle, and do you have any particular brands you are interested in?
We focus on all types of cosmetics, but in particular, small cosmetic brands that is not well known to the public yet. The goal is to promote these brands that have some of the best qualities to the market so that it can increase Korea's cosmetic industry. Therefore, one strategy is to have manufacturing companies lower products' supply price to increase marketability, which makes us lower our prices to return taxes.
If there is one thing you'd like to share with Estetica, what would it be?
There are many Chinese tourists visiting Myeongdong, Hongdae and many more to purchase Korean cosmetics, but in reality, the products are not fully meeting the customer's needs. It's unfortunate that we can't promote smaller brands, because large enterprises are focused on advertising bigger brands. Therefore, our cosmetics department is divergent; we prefer having excellent 'functional' products rather than 'nonfunctional' products regardless of the brand. In such cases, we are very confident that we can satisfy the consumers by having these high quality cosmetics.
3-step BB Cream called 'Valley Island BB Cream' for whitening, anti-wrinkle, and UV protection.
'Dr. Namgung step Essence Mask Pack' is popular among many.
Easy sheet mask with the inclusion of a middle film, and great adherence on the face to prevent the sheet from moving around. Also, the excessive amount of essence left after taking out the sheet can be applied to the neck, arm and more.
Step 1: Eye zone ampoule helps dull and dark skin skin to be bright and white.
Step 2: Take off facial mask and spot patch after 10~20 minutes later and you should be able to see a difference in skin brightness.
Step 3:  Let the skin absorb the remaining essence so that it can maintain a long lasting moist skin.
Consumers love this 'Dr. Namgung step Essence Mask Pack', and it is currently being sold in all pharmacies, airport, Myeongdong, CU Convenient Store, etc.  
"The current goods at the Duty-Free Shops are priced very reasonably, and the quality of the goods and packaging are now outstanding. Korean cosmetics are becoming even more popular among Chinese tourists," says the contractors of DN Company.
---
Paju Premium Outlet Mall in South Korea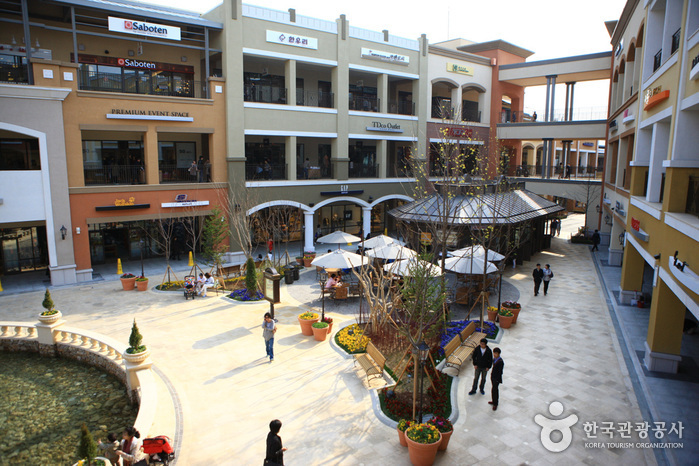 Information and photo courtesy of Korea Tourism Organization
200, Pilseung-ro, Tanhyeon-myeon, Paju-si, Gyeonggi-do
경기 파주시 탄현면 필승로 200
• 1330 Travel Hotline: +82-2-1330
(Korean, English, Japanese, Chinese)
• For more info: +82-1644-4001
www.premiumoutlets.co.kr
(Korean, English, Chinese, Japanese)
---
Source & Image courtesy: Estetica's Reporter Jang Hye Min